** COVID VACCINATION UPDATE **
UPCOMING FLU AND COVID CLINICS:
FLU FRIDAY 15TH OCTOBER VILLAGE SITE
FLU & COVID COMBINED TUESDAY 19TH OCTOBER RUSTONS SPORTS HALL
FLU & COVID COMBINED TUESDAY 26TH OCTOBER VILLAGE SITE
IF YOU ARE ELIGIBLE FOR ANY OF THE ABOVE CLINICS WE WILL CONTACT YOU TO BOOK IN
*12 - 15 year olds who are eligible for the covid vaccination (immunosuppressed) will be contacted directly via the CCG *
NEW SERVICE TO LINCOLN FOR URINE INFECTIONS (UTI) FROM 6TH SEPTEMBER
A new scheme is now being piloted at Co-operative pharmacies within Lincolnshire to help reduce time for women awaiting testing and treatment for UTI's.
Symptoms of a UTI may include:
pain or a burning sensation when peeing (dysuria)
needing to pee more often than usual during the night (nocturia)
pee that looks cloudy
needing to pee suddenly or more urgently than usual
needing to pee more often than usual
blood in your pee
lower tummy pain or pain in your back, just under the ribs
a high temperature, or feeling hot and shivery
a very low temperature below 36C
The Dip UTI service provides eligible patients with a free urine test kit to take home and an app to download onto their phone which will guide you through the testing process. The app uses the smartphone's camera to deliver clinical-grade results in less than 5 minutes. You can then share your results with a Co-op pharmacist to receive the appropriate care, including antibiotics if needed.
This new scheme has been made with you in mind, to try and provide quicker treatment and to also bypass GP wait times.
IMPORTANT NOTICE FOR PATIENTS REGARDING BLOOD TESTS
Update * Unfortunately this shortage may last until at least the end of October *
A supplier to the NHS has advised us of a global shortage of some equipment used for taking blood tests.
Anyone who needs a test for urgent health problems, will still get one but where your clinician recommends that it's safe to do so, then you may be asked to come back for a test at a later date, or your appointment may be rescheduled.
Given the nature of the shortage, we cannot give an exact date for when the test will be rescheduled, but please be assured that if your condition or symptoms require it, then you will get a test, and we will be re-booking your test when supplies become more easily available.
If your condition or symptoms change or get worse, please contact the NHS as you would normally.
STATEMENT FROM LINCOLN CCG
People visiting all healthcare settings in Lincolnshire should continue to follow additional COVID-19 safety measures after Monday 19 July.
The county's health organisations, including services in hospitals, GP practices, mental health and in the community, have confirmed there will be no change to measures already in place when other national restrictions are lifted next week.
This means staff, patients and visitors should continue to wear face masks unless medically exempt, socially distance, wash hands before entering and leaving premises where possible and use hand sanitiser provided in each area.
Karen Dunderdale, Director of Infection Prevention and Control and Director of Nursing at United Lincolnshire Hospitals NHS Trust, said: "It is important to remember that while restrictions nationally may be easing further, we are still managing an ongoing global pandemic. Lincolnshire's NHS staff continue to care for some of the most vulnerable people in our communities and we must take necessary precautions to protect them and provide others with the confidence that they can continue to access services safely.
"While we continually review the measures in place, we ask people to be respectful in supporting us to uphold these important safety measures."
Patients and visitors are reminded:
Not to attend any healthcare setting if you have COVID-19 symptoms. Please isolate and access a COVID-19 test as soon as possible.
Wear face masks at all times within all healthcare settings unless medically exempt to do so.
Socially distance within healthcare premises.
Wash your hands when entering and leaving settings, and also use hand sanitiser in each ward, department or area.
Visiting for relatives and friends in inpatient settings remains available by appointment only. Please visit the relevant organisation's website or contact the ward for more detailed local arrangements.
NHS111 remains available 24 hours a day over the phone, online at nhs.uk and via the mobile app to provide advice and support if you need help quickly but it isn't an emergency before making a journey to healthcare services in person. NHS111 can also provide access telephone and video consultations with local, experienced clinicians.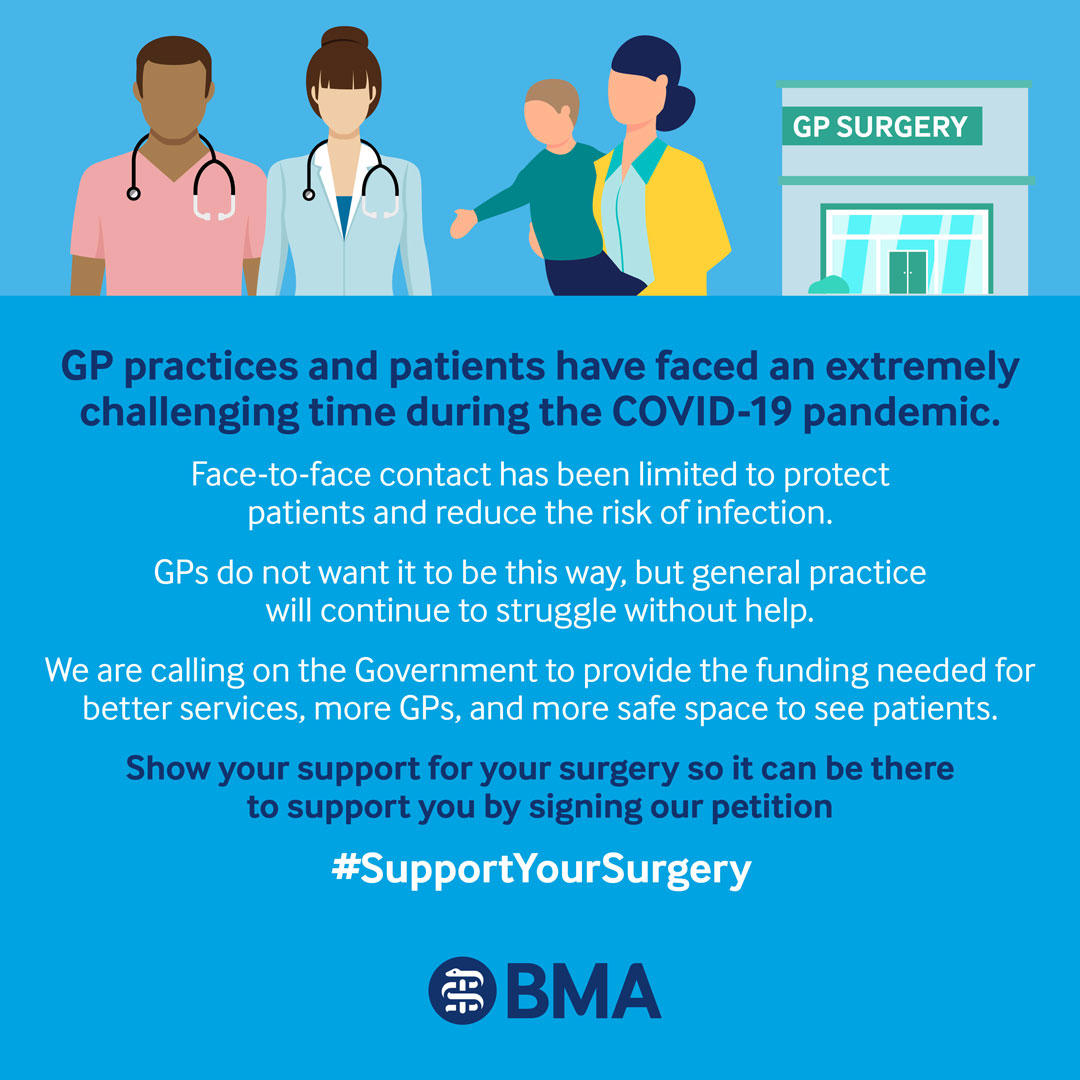 What is eConsult?
eConsult is free to use for NHS patients. Use eConsult to ask your GP surgery about your health symptoms, conditions or treatment. You can even request things like sick notes and GP letters.
It may not be necessary for you to attend for an appointment. You can submit details about your condition or your administration request and you will receive a response from the practice usually within 24 hours but you will be advised of the timeframe once you have submitted the online form.
****Please note eConsult is open Monday to Friday from 0700-1200. Outside of these hours please contact us by telephone or ring 111.
If your request is of an urgent clinical nature, please ring 999****
Parking
Parking at Moor Lane Site

Patients are advised to park in the Sports Centre/Health Centre Car park to the rear of the building. If you require disabled/drop off parking please inform Reception who will be able to advise you as to the best areas to park.

Parking at Village Site
Patients are advised to park in the main car park where there are designated disabled spaces.
Disabled Access
Our premises have suitable access for disabled patients. Our disabled facilities include:
Automatic doors and special toilet facilities and there are no steps
There is a wheelchair available for patient use
We have hydraulic couches in all the treatment and consulting rooms to provide comfortable examination facilities for the elderly or disabled
There are comfortable easy sitting/ standing chairs in the waiting room for the infirm and elderly
There is a portable hearing loop for the hearing impaired
Our reception desk has an area for wheelchair access and confidentiality
A lift is available at Moor Lane site for those who cannot use the stairs
All signs are on yellow paper to assist the visually impaired
Immunisations
Please contact the surgery to book your immunisations if you are due
Routine immunisations are still important to prevent the resurgence of vaccine preventable diseases, the provision of these services have not been affected by COVID 19 and these appointments are available with our team.
NHS England and Improvement specialty guide: maintaining routine immunisation programmes during COVID-19 (nice.org.uk)
We will be contacting patients who are eligible for both Pneumonia and shingles vaccinations. The Pneumonia vaccine is available for all patients over the age of 65 - usually this is a one off dose. The shingles vaccine is available for patients age 70 - 79.
**No other vaccines should be given 7 days before or after the COVID vaccine, please mention to our practice nurses if you have a covid vaccination scheduled in so that they can work around it when booking your appointment**